About
Yes, the modern sales rep now has marketing responsibilities.
Gone are the days of blind prospecting. Today's sales rep knows how to cultivate sales conversations with thought leadership, content marketing, social media, influencer marketing and beyond.
The time has come to enter the mindset of a marketer from the sales perspective!
Join our all-star marketing round table with Sujan Patel, Gaetano DiNardi, and Jack Kosakowski for an action-packed lecture.
Learn how to supercharge your sales growth with the most actionable and innovative marketing strategies today.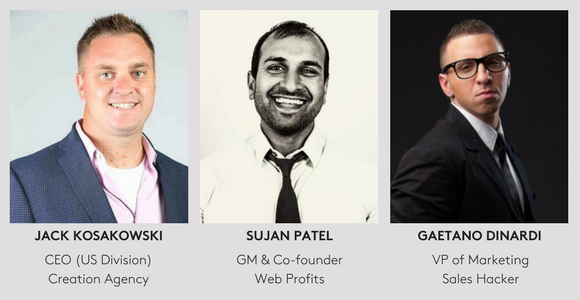 What You Will Learn
Content Marketing & Content Curation strategies to maximize inbound awareness and interest.

Personal branding and cultivating your own thought leadership to cut through the noise and have more meaningful sales conversations.

Innovative and and underutilized growth strategies on platforms like LinkedIn, Quora and Medium.

Powerful tactics to connect organically with influencers and thought leaders in your industry.

Roundup of simple ways that salespeople can use marketing tools for enhanced top of the funnel growth.
What You Get